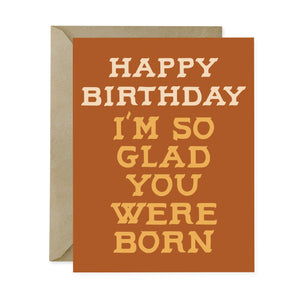 birthdays are kind of a weird thing to celebrate if you think about it. so tell them what you mean - you're glad they were born. 

we love cards, the written word, and thoughtful action - so all of this led us to create our own line of cards. this is a wolfpack original.
designed by us, printed in our hometown of cincinnati, with a kraft envelope made from 100% recycled paper, and delivered in a cellophane wrapper that is made from plants and compostable. cards are all blank on the inside.