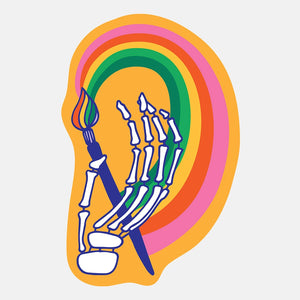 - approx 2.5-3 inch matte printed die cut single sticker
- polypropylene stickers are durable and water resistant
- great to decorate a water bottle or laptop!
- printed in the USA, assembled in our Los Angeles studio
Made in United States of America
made by the good twin, a woman owned business. more about them in their own words:
The Good Twin is owned and operated by Katie Wilson, in Los Angeles, California, with help from a small human team and her pug assistants, Peggy Day and Stevie (nappers-in-chief). In case you're wondering: yes, Katie is a twin. She likes to think she's the good one, but it really depends on the day. Her brother is older by 13 minutes, and they are at times eerily similar, but often complete opposites. All illustration and type work is hand drawn with love, and our products are printed locally using high quality recycled materials.