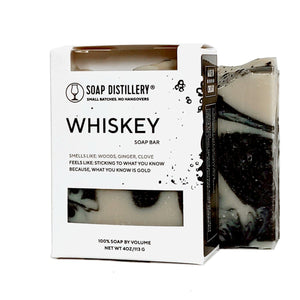 For those who think Bourbon is a little too sweet, this is for you! Whiskey (or Whisky, depending on what part of the world you're from), smells like it just came out of the barrel. It's loaded with spices, woods, and a little smoked sweetness to balance everything out. It smells like spice, caramel, oak, cedarwood, and just general goodness. This soap will make you want to sip a single of your favorite whiskey right away. Naturally fragranced and exfoliating due to the charcoal. Perfect for those who want a little scrubiness. 
Our high olive oil recipe makes this a milder bar, and it is inherently high in vitamin E. Cold process soaps also have naturally occurring glycerin, which draws moisture to your skin. Our soaps are perfect for everyday use, all over the body. 

Approximately 4.0 oz

++++

Ingredients: saponified oils (coconut, olive, sunflower) essential oil blend, charcoal powder, rosemary leaf extract. 

Product notes: all soap bars are phthalate, nitro musk, artificial detergent, silicone, preservative, and palm oil free!  Please store your handmade soap bar in a well-draining dish to insure a long shelf life, and keep out of the sun. Due to the hand-cut/handmade nature of the bars, sizes and colors may slightly vary.
made by soap distillery, a black woman owned business. more about them in their own words:
Soap Distillery is a small company founded by me, Danielle Martin back in 2012. I was inspired by a lack of diversity between scented soaps found at my local health food stores and decided to take things into my own hands. 
After teaching myself the ins and outs of soap making and cosmetic science, I began making my own soap. While drinking an Old Fashioned during a conversation about scent, I came up with the idea to scent my products like cocktails to truly stand out from the crowd. Now, several years later, Soap Distillery's small team of four creates a myriad of uniquely unisex scented products that our customers love. 
We take sustainability serious here, so you'll find most the products that I produce are plastic free. Our soap boxes are biodegradeable, and we do not use essential oils that are unsustainable to produce (think: sandalwood, palo santo, etc). Along with donating to local organizations like the Broadway Youth Center every year, we make sure that fun products like ours can also serve an important purpose, and a positive message to our fans and beyond!